In the fast-paced world of technology and entertainment, breaking into the music streaming industry is no small feat. However, a Spanish startup named Nonoki dared to challenge the norms and embark on a journey that has been nothing short of remarkable. What started as a daring experiment has evolved into a viral sensation, captivating music enthusiasts across the globe. Let's take a closer look at the astounding milestones and metrics that Nonoki has achieved to date.
A Humble Beginning: Trying Something New
Nonoki emerged on the scene with a simple yet audacious goal: to bring a fresh perspective to the music streaming landscape. The team behind Nonoki envisioned a platform that prioritized user experience and musical discovery. As a result, Nonoki's initial release was marked by an innovative spirit and a commitment to offering something new to music lovers.
Viral Sensation: 300,000 downloads worldwide, ahead of TikTok, Instagram, WhatsApp and Apple Music
Nonoki's journey took an unexpected turn when the platform went viral, capturing the attention of users worldwide. Astonishingly, this remarkable feat was achieved organically, without marketing investment. The platform's unique features and user-friendly interface resonated with audiences, leading to a flood of users onto the platform.
Nonoki became top 1 general apps in Germany and Switzerland, top 2 music apps in Spain
The numbers speak for themselves: Nonoki secured an impressive 300,000 downloads globally, with its popularity soaring to unprecedented heights. In Germany and Switzerland, Nonoki claimed the coveted top spot on the overall app charts ahead of TikTok, WhatsApp and Instagram, cementing its status as a force to be reckoned with. In Spain, the platform achieved a remarkable feat by reaching the second position in the music app category, surpassing Apple Musica, Tidal and Soundcloud.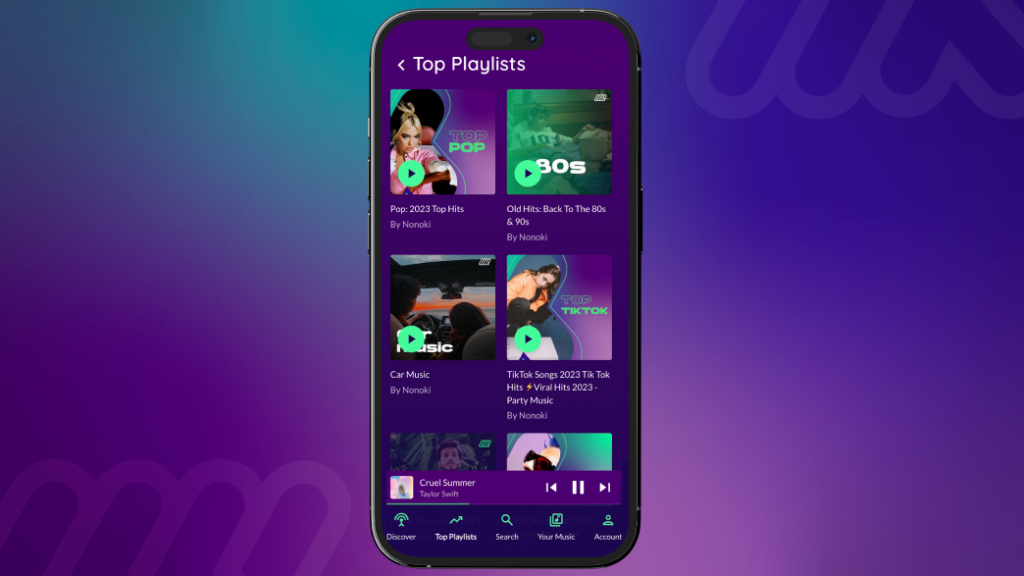 Recognition from Angels and Institutions: Part of the 100 Best Spanish Startups
Nonoki's meteoric rise has sparked keen interest from the business world. Several business angels and esteemed music institutions are keen to invest in this revolutionary platform. The fact that Nonoki is being considered among the 100 best startups in Spain speaks volumes about its potential and impact. This acknowledgment cements Nonoki's status as a game-changer in the music and technology landscape.
Evolution Beyond BETA: A New Chapter Begins
The Nonoki journey is far from static. The team's dedication to excellence is evident in their commitment to advancing beyond the BETA phase. The platform's developers have been diligently working on a more robust version, poised to elevate the music streaming experience to unprecedented heights. This milestone marks a significant step forward in Nonoki's evolution.
Navigating the Investment Landscape: The Future Beckons
As Nonoki continues to chart its path of innovation, it recently embarked on its first investment round. This presents a unique opportunity for individuals and entities interested in contributing to Nonoki's growth story. For those intrigued by this promising venture, the invitation to be part of Nonoki's journey is a tantalizing prospect. This stage represents not only a financial investment but a chance to be part of something groundbreaking.
Global Acclaim and Media Giants Recognition
Nonoki's meteoric rise has not gone unnoticed by the media. International giants like HubSpot, Giga, and Inside Digital have lauded the platform's innovative approach to music streaming and its unwavering commitment to growth. Closer to home, prominent national media outlets such as Diario Sur, El Español, and La Vanguardia have dedicated articles to Nonoki's journey and its ambition to continue scaling new heights.
In conclusion, Nonoki's trajectory is a testament to the transformative power of innovation and the allure of music. From its experimental inception to its viral triumph, Nonoki has captured the imagination of music enthusiasts worldwide. As it stands on the precipice of a new phase, beckoning investors and unveiling a more refined version, Nonoki's journey is a symphony of ambition, creativity, and the relentless pursuit of excellence.